10. Svalbard Global Seed Vault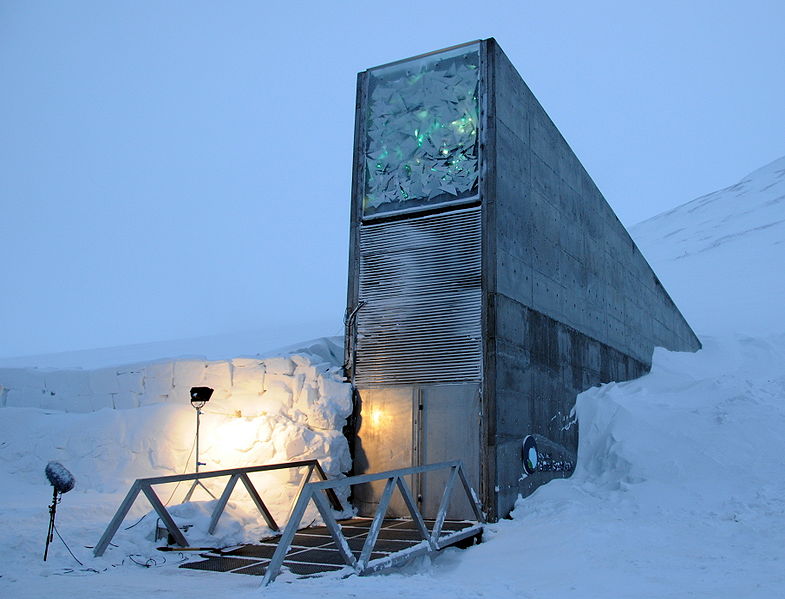 The Svalbard Global Seed Vault is located in the remote arctic of Norway, only 810 miles away from the North Pole. Created through a joint effort, the seed vault is designed to be a sort of Noah's Ark for humanity. This facility stores seeds from as many varieties of plants as possible, in case they were all wiped out during a major catastrophe. The original cooperative between the Norwegian government, the the Nordic Genetic Resource Center and Global Crop Diversity Trust (GCDT) gained the initial push needed to build the vault. Additional funding to the tune of 9 million was received from The Bill and Melinda Gates foundation, Brazil, Australia, Norway, United Kingdom, Sweden, India, Columbia and even Ethiopia for construction.

http://en.wikipedia.org/wiki/Svalbard_Global_Seed_Vault

Additional Resources
Didn't get enough about bunkers?
Tom Cruise's alien bunker
Going underground? Bunker Sales Surge in Wake of Japan Nuclear Threat
Fallout shelter in Lucerne, Switzerland (pictures)
Man Selling Spots in Hidden Bunker as Last Hope
Billion Dollar Bunker
Come the end of the world, you might like to sit it out in style. All you need is money and a few DIY skills…
Concrete Mushrooms
Do you Need to Stock Up the Bunker?
Be sure to check out:
Top 100 Items to Disappear First in an Emergency
11 Survival TV Shows Worth Watching
Be Prepared: 6 Foods to Store Forever
10 Impressive Doomsday Bunkers
***This article was contributed by Chrystle Poss a.k.a. "Survival Girl", Owner of this Survival Blog and devoted Prepper. She has been writing articles on survival and emergency preparedness since 2006. You can find her work on various websites and publications.***