9. Denver International Airport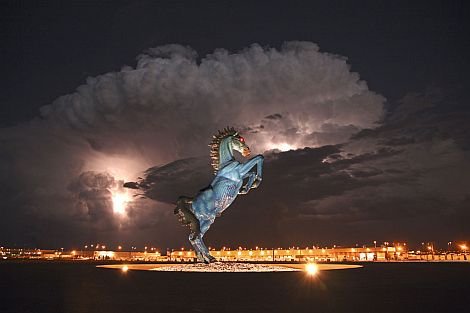 Denver International Airport is one of the nations largest and busiest new airports. At over 53 square miles, the Denver International Airport is the largest international airport in the United States and the third in the world.
While there is no physical proof of a bunker at this location, there is a lot of tertiary evidence to support the claim. Some interesting facts about DIA that may support this conclusion are:
The budget far exceeded original projections (original budget was 1.7 billion and ended up costing 4.8 billion)
There is a large network of subterranean tunnels here, used for an "automated baggage system". When the system failed miserably, they spent 1 million dollars per day for several months worth to repair it. Eventually in 2005, the airport abandoned this automated system all together to save 1 million per month of maintenance costs.
The airport has extensive alternative energy systems, uncharacteristic of the modern airport.
There are many very important military installations nearby including: Cheyenne Mountain, NORAD, Peterson AFB, United States Space Command, Air defense mission, United States Northern Command and dozens of major business headquarters
Some famous people who live or have purchased homes in Colorado are: Tom Cruise/Katie Holmes, Oprah Winfrey, Oliver Stone, Richard Holbrooke, Norman Schwarzkopf, Jr., Prince Bandar (wealthy Saudi Prince), Michael Eisner, David & Victoria Beckham, Condoleeza Rice
Significant quantities of earth (110 million cubic yards) have been removed from the site, far more than is traditionally necessary
5 buildings were built incorrectly and new buildings were placed on top of them
Granite was imported from all over the world for the airport
The fueling system can pump 1000 gallons of jet fuel per minute, which is far more than any commercial airport could need
There around 5300 miles of fiber optics installed (the United States coast to coast is 3000 miles)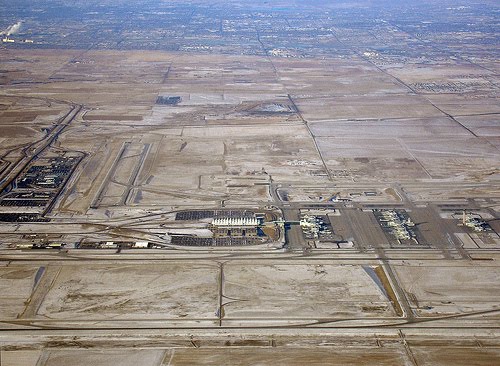 Interesting Fact
During early phases of construction, 5 buildings were built and then deemed to have been built improperly. These buildings weren't torn down but instead new buildings were built over them.
Is there something there, you decide.
http://en.wikipedia.org/wiki/Denver_International_Airport
http://vigilantcitizen.com/sinistersites/sinister-sites-the-denver-international-airport/