What's in the 11th Edition of Basics?

I'm going to Keep It Super Simple!
I've been receiving emails asking about the new version of Making the Best of Basics, 11th edition, 26th printing.
When I started the 11th edition––actually the revision of the 10th edition––I was going to merely reprint it and put it out into the marketplace. The 10th edition sold more than 350,000 copies in 2 years—how bad could it be?
The more I thought about it and the more I considered what seemed to be lacking in the marketplace, the more I couldn't go into a new market with old merchandise. I'm sure part of that was author's pride, but a large part was the reality of so many new people who have such great technical skills and have adopted new technology, thus creating a different paradigm of acceptance as compared to the previous generations' skills and opportunities.
More of the population has become urbanized—even the ex-urban population love the efficiencies of urban life––so I felt Basics… should reflect that.
The book has the 10th edition, with informational upgrades, at its core. There are several chapters added to give additional knowledge to readers with no experience in any aspect of preparedness…
I will need to get more detail for the chapters, but suffice it to say that the content is increased and improved.
Pricing of $29.95 + shipping and handling remains firm through the pre-launch period until Nov. 2.
Book prices will increase to $34.95 after the initial shipping is done. Until the 1st printing of 10,000 books is sold out, we won't have another price increase.
Many have asked for a preview of the new book—that would take a very long time—in fact, there is a free CD included in all books purchased during the pre-launch period to help introduce the new book.
Following is a listing of the major content in the 11th edition. The underlined chapters are the new content.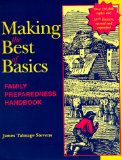 INTRODUCTION
Family Preparedness Self-Assessment Test
An Ancient Parable… Parable of Gomer
A Modern Parable… Parable of the Fairway Ants
SECTION I • A Preparedness Lifestyle
Chapter 1: The Wake-Up Call
Chapter 2: The Time to Prepare Is Now!
Chapter 3: Preparedness Lifestyle
Chapter 4: The Path to Family Preparedness
SECTION II • Starting Your Preparedness Lifestyle
Chapter 5: 72-Hr. + E/PAK – Emergency/Preparedness Action Kit
Chapter 6: Getting Your Household in Order––Family Preparedness Household Notebook
SECTION III • Setting Up Your In-Home Convenience Store
Chapter 7: In-Home Storage––A Basic Strategy for Family Preparedness
Chapter 8: In-Home Convenience Store
Chapter 9: Managing Long-Term Storage––Basics of Storage Problems & Solutions
SECTION IV • Beginning Basics
Chapter 10: Water—the Absolute Basic
Chapter 11: Basics of Dairy Products from Powdered Milk
Chapter 12: Basic Sprouting Guide––Healthy Kitchen Gardening
Chapter 13: Basics of Honey Use
SECTION V • Wheat Basics
Chapter 14: Wheat—the Basic Grain
Chapter 15: Basics of Whole-Wheat Flour Cookery
Chapter 16: Basics of "WheatMeat" Cookery
Chapter 17: Basics of Sourdough Cookery
Chapter 18: Basics of White Flour Cookery
Chapter 19: Basics of Triticale Flour Cookery
SECTION VI • Back to Basics
Chapter 20: Basics of In-Home Drying––Dehydrating Fruits and Vegetables
Chapter 21: Basics of Preparing Game Meats, Fish, and Fowl
Chapter 22: Energy and Fuels Storage
SECTION VII • Basics of Preparedness Self-Health
Chapter 23: Basics of Supplementation – Vitamins, Minerals, & Herbs
Chapter 24: Basics of Battling Stress – How To Reduce Stress and Pain
Chapter 25: Basics of Essential Oils
Chapter 26: Basics of Genetic Engineering
SECTION VIII • Basics Library
Chapter 27: Creating a Preparedness Library
I feel sure you're going to like the new version! I also think you'll find it both easier and more compelling to become prepared––for no one knows what lies just over the horizon.
It's as simple as that!
Till next time…
James Talmage Stevens
Author: Making the Best of Basics–Family Preparedness Handbook
Blogger: FamilyPreparednessGuide.com
Internet Radio: blogtalkradio.com/James-Talmage-Steven (Saturdays, 1:00 PM CDST)
Coaching website: beprepared101.com
Preparedness Provider listings: PreparednessYellowPages.com and
PreparednessMarketPlace.com