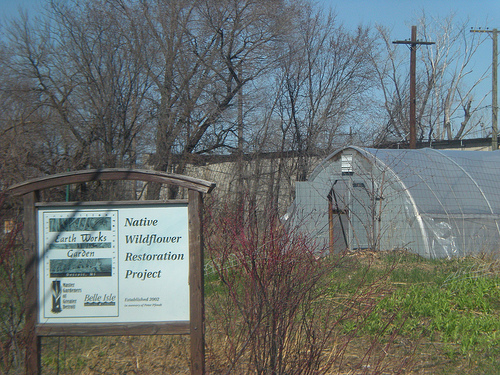 Detroit once reigned as the center of America's auto industry. Some 60 years later, the city serves as the nation's poster child for urban decay. Abandoned houses and broken-down buildings litter the landscape, while factories that produced the country's transportation sit dormant. Since the 1950s, the city's population dwindled from 1.8 million to fewer than 900,000 today, creating 40 square miles of vacant property, a land area about the size of San Francisco. It's sad to say, but Detroit's leading export is, well, Eminem.
Though Detroit's landscape seems pretty bleak, the city's starting to experience a regrowth — literally. Community groups and businesses are reclaiming those 33,000 vacant lots and other areas to plant gardens and start farms. Detroit may not roll out many cars anymore, but the fruits and veggies the city produces keeps the town's breadbaskets full. The effort puts people to work, generates healthy and ecologically farmed foods, and gives the city a much-needed facelift. As The Guardian recently reported, "Like in no other city in the world, urban farming has taken root in Detroit, not just as a hobby or sideline, but as part of a model for a wholesale revitalization of a major city."
Take the Detroit Black Community Food Security Network, which Change.org columnist Jason Mark recently wrote about. The organization operates a two-acre farm in a city park. Another organization, Earthworks Urban Farm, grows food to sell in farmers' markets and a co-op, and also gives some produce to the Capuchin Soup Kitchen and local health clinics. These are just a couple examples of a city that is literally bursting with grassroots, sustainable food groups.
These urban farming ventures provide local food that's produced in an ecologically sensitive way — a major accomplishment in and of itself. But what's more, a lot of these groups help further revitalize Detroit by offering historically disenfranchised groups training and jobs, incorporating them as a vital part of the workforce. Urban farms, therefore, don't just provide food—they help grow employment, profits, morale, and spruce up a city that is, for lack of a better word, ugly.
It's not just small, community groups taking root in Detroit, either. Michael Score's Hantz Farms is currently planning to build the world's largest urban farm in the city. Another large-scale proposal comes from Self-Help Addiction Rehab, Inc. The rehabilitation facility proposed RecoveryPark, a 10-year, $220 million venture that would create organic farms in four impoverished neighborhoods.
Color me seriously impressed with Detroit's farming efforts. But these innovative concepts don't need to exist solely in the Motor City bubble. Lots of American cities are experiencing post-industrial decay, like Philadelphia, Baltimore, Pittsburgh, and Memphis. While they may lack quite as much vacant space as Detroit, trust me, it's there. It may sound strange to hear it, but when it comes to agriculture, American cities would do well to model themselves after Detroit.
Photo credit: bagaball via Flickr
[Via Change.org]