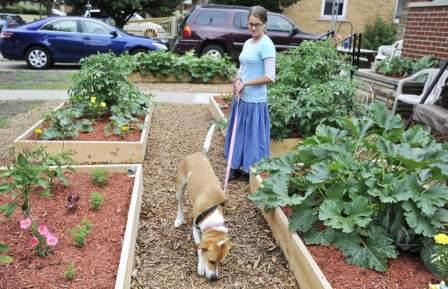 Oak Park— The old adage says you can't fight city hall. But the case against the woman who planted a vegetable garden in her front yard suggests maybe you can.
Charges against Julie Bass over her garden have been dropped, but other charges remain for failing to license her two dogs, officials said Thursday.
City Prosecutor Eugene Lumberg said he dropped the misdemeanor citation against Bass for growing cucumbers, tomatoes and other vegetables in raised beds in her front yard.
The situation garnered Bass an army of international supporters after she began writing about it on a blog and a friend put up a Facebook page, "Oak Park Hates Veggies."
"I want to look at it, I want to see the facts, I want to see where this vegetable garden is going and make a determination of whether or not to prosecute under the existing ordinance, write a new ordinance and (examine) the public welfare," Lumberg said.
Asked if that meant this case could be resurrected, Lumberg said he couldn't predict what would happen.
"She may decide to grow a cornfield," Lumberg said. "If she plows up a compost heap, what are (we) going to do?"
But Bass' attorney, Solomon Radner, suspects the charge for the vegetable garden was dropped because Oak Park wants to get out of the international spotlight. Last week, Bass' plight went viral, and city officials acknowledged they were barraged with emails and even threatening phone calls as the suburban mother and gardener faced a $100 fine and up to 93 days in jail.
"Charges are dropped for the time being," Radner said. "Based on the games the city has been playing, I would not put it past them to drop the charges just to get the media off their back."
Read Full Article From The Detroit News: http://detnews.com/article/20110715/METRO02/107150397/Charges-dropped-against-Oak-Park-woman-over-veggie-garden