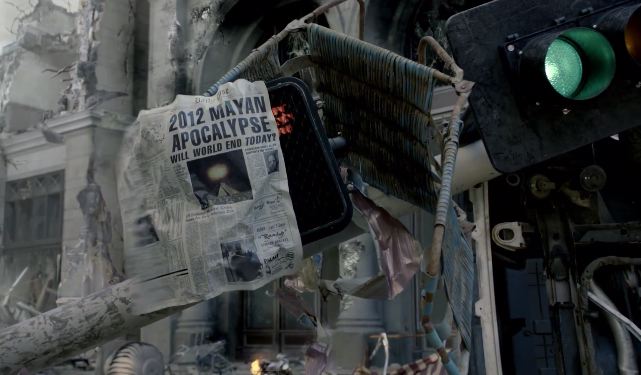 Bugging out in a Jeep 2012, avoiding zombies in a Toyota Corolla or enjoying a beer during an asteroid strike; these are just a few ways that companies are trying to capitalize on end of the world hype. From cars to Doritoes to Axe body spray, just about everyone has an apocalyptic commercial now. Let's take a look at a few end of the world commercials and survival commercials that have invaded modern television.
End Of The World Commercials
Jeep 2012 Call of Duty Modern Warfare 3 Commercial
Pepsi Max – Asteroid (End of the World)
Chevy Silverado "2012" Super Bowl XLVI Ad
Terminix – End of The World Commercial
Shock Top End Of The World
Bridgestone Apocalyptic Super Bowl 2010 Commercial
Lynx Body Spray – 2012 End of the World Commercial
AXE 2012: End of the World Survival Guide
Survival Commercials
Verizon Survival of the Fastest – "Swamp" Commercial
Bear Grylls Degree Commercial (Wolves)
Bear Grylls Nissan X-TRAIL Commercial
Bear Grylls Trail Mix Cereal Advert (Lion)
Zombies
FedEx – Zombies TVC
Doritos: Zombie Party Commercial
Doritos – Better Than Brains
New Honda Civic Zombie Commercial
Zombies: The Ramifications of Yes (Official Toshiba Commercial)
Zombie GEICO from the 2010 Spike TV Scream Awards
Toyota Zombie Car Commercial (2010)
Polaroid Zombie Ad – "SOUL"
Polaroid Zombie Ad – "NETWORKING"
Polaroid Zombie Ad – "TANGIBLE"
Video Games
Mass Effect 3: Official Launch Trailer
Fallout Intro
Gears Of war
X-men Legends II: Rise of Apocalypse Commercial
Stubbs The Zombie: A Rebel Without A Pulse
Tom Clancy's EndWar
What do you think about companies using the end of the world theme for advertising? Leave your comment below.