Sometimes we need to be prepared for everyday situations and electronics are especially vulnerable to this threat. Falls, bumps, water, dirt and dozens of other threats can ruin expensive electronics, some of which contain our most valuable documents and passwords. Survival Spot has selected some tough gadgets that will stand up to your everyday emergencies.
The Iron Key USB Drive
This is one of those "every day items" for most people who work on computers. The difference is that this USB is more of an everyday item for spies or government agents.  The Iron Key a.k.a. "the Silver Bullet" offers more protection than you really need for a USB drive. A rugged water resistant outer shell protects the drive from the weather but more importantly from people. This drive will automatically encrypt files and it's coolest (and most worrisome) feature self destructs the drive after too many failed password attempts. Yes you heard right, after you type the password incorrectly enough times the password will burn itself on the inside, permanently deleting any and all files on the drive.
The XP1 – 1 Bad A** Cell Phone
This phone is by far more durable than any factory phone you can buy. A hardened molding cast protects the phone from dirt, dust and even a small stream of water. Additionally you can drop this phone from 5 ft onto concrete in -4 degree or 140 degree weather and still have a working phone. The drawback, you may not get the best coverage in the US as you might abroad but it still works and is still very tough.
FR500 Solarlink by Eton Corp
Don't go to any outdoor adventure without this radio. The FR500 is self powered and can operate by solar power, hand crank or traditional batteries. Easily pickup AM/FM, shortwave radio and NOAA and while you're doing that charge up your cell phone with the built in charger. There are many other features such as flashlight and siren but all in all this is one great radio. The drawbacks are that you can only receive one cell phone adapter (as far as I know) and you don't have the shock resistance some radios gave. However you can run this baby without batteries so that gives it an A+.
Panasonic ToughBook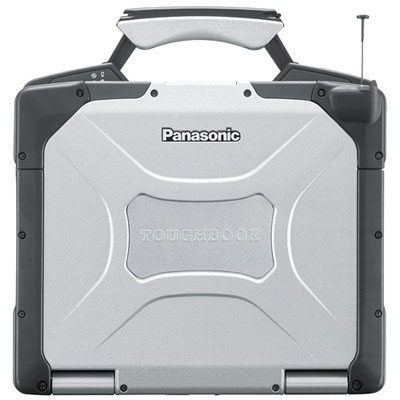 Built to military standards this award winning laptop offers protection against the most brutal abuse. The toughbook will withstand water, dirt, dust, sunlight and even harsh falls or drops. The screen boasts a 1,000 Nit brightness so that you can see it outside and has internal parts that are mounted into place (what allows it to withstand shock) as well as offering a magnesium alloy case with a built in handle. If you need a computer on the road or in the field this should be your number one choice.
Freestyle Waterproof MP3 Player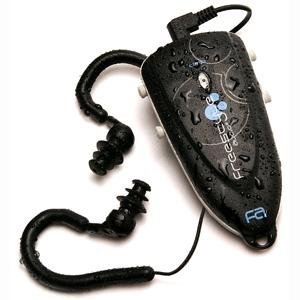 If you live an active lifestyle, your mp3 player has probably seen a lot of abuse (if it's still alive).  Don't loose your music or your mind and buy a quality rugged-ized mp3 player that won't let you down. The Freestyle is water proof to about 10 feet and it floats when in water. With long play times and a wearable, durable design, the Freestyle will go anywhere you take it.
Olympus Stylus Tough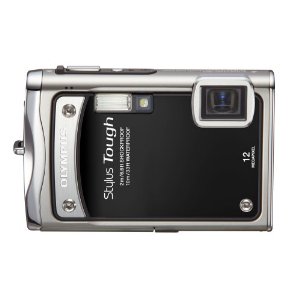 Accidents happen but that doesn't mean you have to lose your photos or your expensive equipment. The Stylus Tough from Olypmus boasts a number of features that make this camera close to invincible.
Waterproof (33ft.) A revolutionary system of waterproof seals and gaskets keeps water out so you can take pictures as deep as 33 feet underwater.
Shockproof (6.6ft.) Life can be tough, this camera is tougher. Rugged metal body and innovative shock-absorbing construction are designed to withstand a 6.6-foot drop, bump, or other mishap.
Freezeproof (14°F/-10°C) Boldly enter that winter wonderland without worrying about your camera. The Stylus Tough-3000 is winterized to perform at below-freezing temperatures.
Crushproof (220LBF.) With a rugged body and reinforced LCD, the Stylus Tough-8000 withstands up to 220 pounds of pressure so your camera and images are protected.
Flash Survivor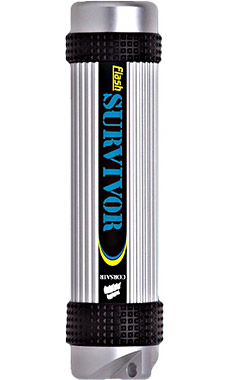 Computers may not always be around or available, but that doesn't mean you shouldn't protect your valuable electronic data right now. The Flash Survivor is extremely durable and can withstand water and the worst of the elements. Drop it or dunk it and this baby will not flinch.