Sprouters
Once you have sprouting seeds you will need to purchase or make a sprouter.
Sprouting Jar
The jar method of sprouting is one of the easiest ways to sprout. You can create your own using a mason jar and some kind of screen like cheesecloth, mesh or metal screens. Cheesecloth is probably the easiest and most sanitary method; you will need a rubber band to secure it to the top of your jar. There are also several pre-made options like the Sprouting Jar from Handy pantry shown here.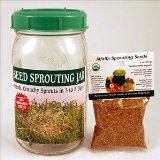 Sprouting Cloth/Bag
Another great method for sprouting is known as "the bag method" or sometimes the hemp bag method. Some people swear by the bag method, saying that it has better air circulation and drainage than other methods, which allows for high yields and better sprouts. Some debate exists about bag sprouting however; some have suggested mold is more common with the bag method. Since sprouting bags are very affordable and easy to transport, they are a great option.
Sprouting Tray
There are several different types of sprouting trays available like the popular Sproutmaster and the Sprout Garden. A huge advantage of the tray system is you can grow a lot more sprouts and use less space. The only real drawback to using a tray sprouter is that they are slightly more expensive and slightly more difficult to use. For larger production a tray is a great option, if you don't need a lot of sprouts one of the other methods would be preferable.
Make Your Own
A simple sprouter can be made easily with a mason jar and some cheesecloth. Simply attach the cheesecloth to the top of your mason jar with a rubber band and you're done. Below are some great tutorials on other Do-It-Yourself sprouters.
http://bean-sprouts.blogspot.com/2007/10/how-to-make-bean-sprouter.html
http://www.instructables.com/id/Modular_Hydroponics_Sprouter_Modification/