How to Sprout
There are several different ways you can sprout but the basics apply to every method.
Soak Your Seeds – Soak your seeds in warm water (NOT hot water) for about 24 hours, smaller seeds can be soaked for 6-12 hours. Make sure that you use purified water, as contaminates from water can be absorbed into the seeds and in turn pass it on to you. Also many states use chlorine and fluoride in the public water, water with these chemicals should be avoided if possible.
Drain – The next day once your seeds have had time to absorb the much needed water you will need to drain the jar. Use your cheesecloth or covering here so that you can drain the water and keep all your seeds.
Store Away From Light – Set your jar or cloth away from light in a warm place. A popular option is to place the jar in a kitchen cabinet. For proper airflow and drainage you jar should be place angling down like pictured. Some people say to store your jar upside down but this is a mistake because you will be covering your lid, blocking airflow and reducing the space your seeds have to grow.
Rinse, Rinse, Rinse – Everyday you will need to rinse your seeds, drain them and put them back into the angled position. Rinsing your seeds 2-3 times a day is recommended for most types of seeds. By the 3-5 day your sprouts should be ready for the next step.
Put out in the sun – The final step to your sprouts is exposing them to sun, this will allow them to absorb chlorophyll which will add the green color to your sprouts as well as help your sprouts develop nutrients. Most seeds only require a few hours of sun exposure, but it will vary depending on what seed you are using.
Harvest and Enjoy – A common question is how do I know when my sprouts are done? Some of it is guesswork, but with seeds you will see green leaves and with beans, nuts and grains you will see white chutes. Basically they should look like the photos below. This site has great info on when to harvest different seed types
http://www.universal-tao.com/article/sprouts.html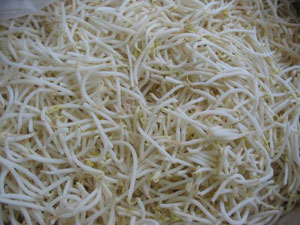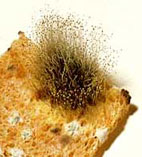 Uh oh!!!!!
If you see mold on your sprouts, or notice any other odd things DO NOT eat them. If you do have mold on your sprouts here are a few things you might consider doing differently next time to prevent it.
-Improve air circulation. Although cabinets work most of the time, sometimes you will not have enough fresh air flowing to your seeds. If this is the case try some other dark location, or add a small fan to improve circulation.
-Make sure your seeds are properly drained. Poor drainage is a leading cause of mold, that's why we angle our jars.
-Clean your sprouter and any equipment used in the process (including your hands)
-Try using colder water during rinses and consider adding an additional rinse per day
-Consider switching to a different sprouter