Back in the days, before heat was a common luxury. People stayed warm in their homes by wearing layers of warm clothing around the house. If they became heated, they would just remove a layer and go about their business. With winter in full swing, losing access to heat is a major concern, especially for those who live in cooler climates or may not have access to back up heat sources.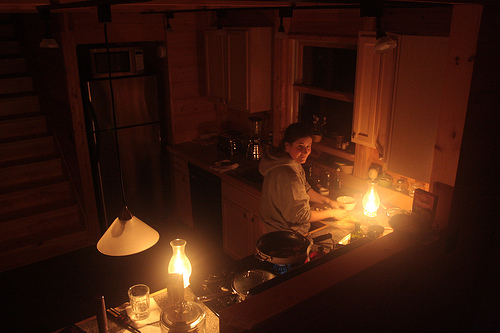 The recent barrage of winter storms in the Midwest has left millions without power in below freezing temperatures, showing just how vulnerable we really are. Now is a great time to start thinking about heating alternatives for your family. In this article we will explore some of these options.
Obviously, if you have a wood burning stove
or coal stove it would be wise to always keep a sufficient back up supply on hand just in case. If you have a propane tank, usually your supply can last anywhere from 3 to 9 months, depending on the level of usage and the size of the tank.
Of course there are always other factors such as loss of electricity that may affect the ability of your furnace to actually produce the heat.
Either way, you cant go wrong with a back up supply of thermal underwear, wool socks, mittens, jackets, coats, scarves hats and earmuffs. Be sure to keep enough on hand for everyone in the family and make sure they are easily accessible. The last thing you want is to have to search all over the house for something warm to where in the cold.
If you are stranded without heat for a longer period, plastic sheeting
can really be your saving grace. Since body heat comprises so much of the temperature in an enclosed situation, sheeting off one room for your family to hang out will help keep the temperature up in that room. Allowing you to remove a few layers of clothing and relax for a bit.
Remembering these simple tips and keeping important items on hand in case of an emergency is smart for you, your family and everyone in your community. Pass these tips on and help others to become more aware of their responsibility to prepare.