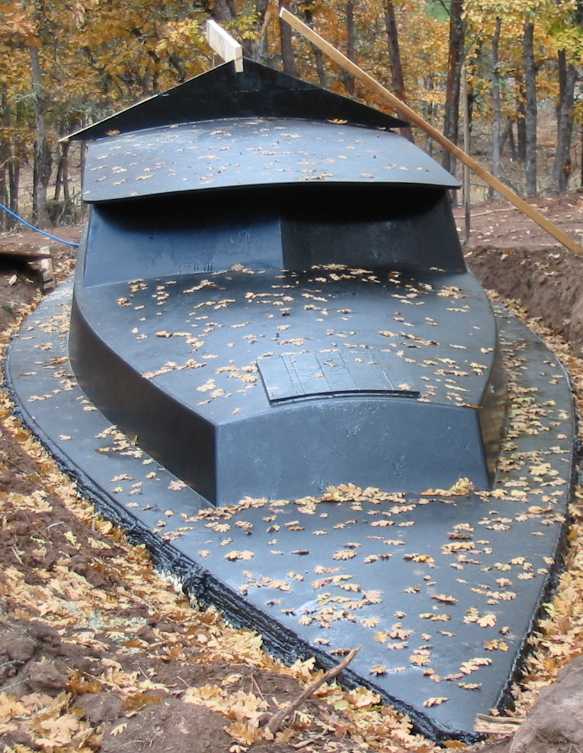 Root cellars have always been a crucial part of any survival strategy. Follow the construction of this very unique and interesting root cellar design from start to finish in this interesting piece on how to build a root cellar using an old boat.
How it started…
A couple of years ago we moved to a beautiful 5.5 acre piece of property. It was very close to what we were looking for with a lot of trees, some varied terrain, even a seasonal pond, and in South Central Washington. We soon realized we needed to come up with an economical way to build a root cellar since we had some sloping land to work with. After several brainstorming sessions that were going nowhere, my wife came out with "boats are cheap, let's bury a sailboat". At first all I could do is laugh, but the more I thought about it, the better it sounded.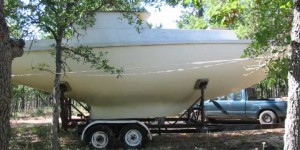 With a fiberglass hull it would be leak proof and strong enough to put up with a large amount of weight on the top; as in waves over the bow or… dirt. I started figuring what the structural strength really would be, and found out that many of the fiber glass decks and hulls are pretty much bullet proof since they have to put up with the pounding of rough seas. Originally we were planning on about a 17-24 feet sailboat which would have a fair sized cabin. Imagine our surprise when we saw an unfinished sailboat hull not all that far from where we live. We stopped and checked it out and realized it was really what we were looking for since the windows/portholes had not been cut out yet, and there was only one hatch cut in the forward deck. There were no hardware holes to patch either since nothing was mounted yet. She measured 29 feet long and 9 feet at the beam and it was more than we were even hoping to find.
We called the owner to inquire about the price and found out it was very reasonable. The price he gave was with the cradle, and I let him know the cradle wasn't needed. Of course he had to ask what we were going to do with it. At first I just said he probably didn't want to know since I didn't know if it had sentimental value or represented a lot of work on his part. Well I finally had to tell him and he looked at me for a bit like I had totally lost it. His only comment was to sadly say, "it is such a shame to bury that pretty hull without it being tested on the water". We settled on a fair price for just the boat agreeing the trailer and cradle would be returned to him after we unloaded it.
A neighbor gets in on the action…
Meanwhile, our neighbor (George) caught wind of what we were planning and was so intrigued by the idea, he offered to dig the hole with his backhoe. We have some excellent terrain on our property so we were able to dig the 12 foot deep hole (remember it has a deep keel) into a hillside. We were able to open the lower end of the hole and make a kind of a ramp to roll the boat into using logs.
Dangling tractor…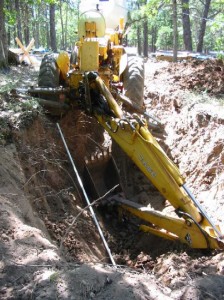 The hole was getting deep and George was working on the upper end of the hole when the outriggers and bucket let go and his backhoe started free wheeling into the hole. Fortunately the hoe was down in the hole and caught the tractor before it fell in the hole with George on it. George carefully climbed off and casually made the comment, "that's enough to make a guy pucker". I had to agree with that statement. Fortunately he had a logging truck and before long he pulled the tractor back onto solid ground.
Sealing things up…
The hull below the gunnel had a gel coat finish, so it was watertight. The cabin and deck were only fiberglass with a marine paint and I was sure it would need some kind of sealant. After looking at several options including truck bed spray on lining (wow that is not cost effective), we went with a black foundation sealer. It turned my white sailboat into a stealth boat. I installed PVC pipes for natural lighting, ventilation, and conduit to a solar panel. After we back filled and buried the boat, there is an average of 2-3 feet of dirt covering the boat deck and cabin now. If there was any possibility of a cave in it would have happened then but it held as advertised. Now after more than a year, when you rap your knuckles on the ceiling, it feels like concrete.
Now that it is in the ground, what do I do?
For convenience sake, the transom was cut out to make easy entry into the cockpit, instead of a trip over the end. The cockpit also needed covered to keep out the rain and snow. Ultimately side walls were put up and a peak roof added. Here is a good time to bring up one of the problem points of using a boat blank… THERE ARE NO SQUARE CORNERS ANYWHERE! I really thought I had it just right for the cockpit roof until I stepped back and looked at it. The back end looks like it droops down. What I didn't allow for was the taper across the cockpit from the rear of the cabin to the transom. Oh well… details. It ended up looking like the entrance to a mineshaft. Again, thanks to our neighbor George and his sawmill, we were able to use our own pine lumber for the framing materials and the wall/bulkhead coverings. To make sure the cabin was well insulated, I used 2 inch foundation foam insulation between the cockpit and cabin and in the rather thick door going into the cabin.
The Neighbors, Winter Break and a Test…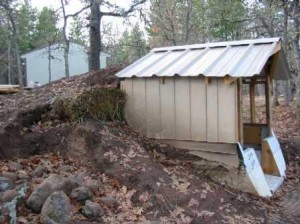 Of course, our neighbors were curious what we were going to do with this huge boat in our yard. It was just a bit conspicuous. Once they found out what we were going to do with it, we had many helpful comments and suggestions. One neighbor asked if we got a permit to dig the hole. I just replied with "why, would the county even know how to deal with this?" Another more constructive comment from a retired Coastguard sailor was; "you have launched a new boat, you should know you need to name and christen it". Being an ex sailor myself, I knew that was a very good idea. So mid-summer 2010 we had a christening party and named her "Lady Cella" (which is painted on the stern). Seems appropriate don't you think?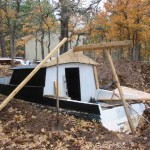 With the cold, wet and snow starting, it made it tough to cut the pieces to put in place in the cabin so I took a break on outfitting the cabin. We did however buy a 50 pound sack of baker sized potatoes in January to see just how long they would keep up in the bow. We also put a thermometer in the mid part of the cabin to see what the temperature would get down to. Even on the coldest days/weeks, it never dropped below 35 degrees (That was before all the insulation was in place). By the end of July (7 months later) we were down to just a few potatoes left, and they were just starting to wrinkle and sprout a bit but were still edible even then. The test was a success!
Outfitting the Boat Cellar…
Occasionally I wished we had found a boat with the interior already built in place. It would have saved a lot of time and effort since every shelf, the bed frame, and interior lining had to be special cut to fit the odd angles.
The cockpit is soon to be enclosed completely and will probably end up being the heat source for the bunkhouse with a brick, rock, and mortar fireplace with a kettle hook and pizza style bake oven above.
The bunkhouse now has a pullout futon style bunk that sleeps two comfortably.
The center section has shelves lining both sides and is storage for our canned and dry goods and apples. The battery to run the lighting is also in this section.
The bow/V berth has root vegetables for now… It is also still under construction since I plan on making more of a meat/cheese cellar in the bow.
More to do…
There is very large storage under the floor boards in the keel area and a few more under the floor and seats in the cockpit. Once there is a false floor in the keel area, I intend to move the root vegetables there. I am also considering turning the cockpit into a pit greenhouse.
Conclusion…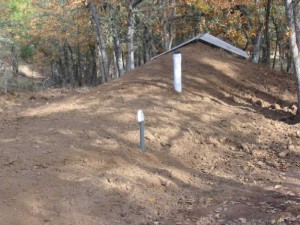 Our boat cellar has been in the ground for over a year now. I sincerely hope you have enjoyed this saga. So far, we have around 700 dollars invested in the boat and other materials. It has been a dry, controlled temperature for our food storage. Some tricky things we considered were to keep it from caving in, environment, location, type of soil, separate compartments for different foods, no moisture or pests inside, and keeping it in place in the ground.
Something we are seeing around here is a huge number of derelict or abandoned boats along any of our coastal or inland waters these days. While driving around the countryside, we see old tired boats just sitting in people's yards and property with parts of them rotting away. Some folks are even taking them out to sea and pulling the plug. It is really a shame to be so wasteful when there are alternatives for these otherwise useless boats. I will have more stories about old worn out boats and creative adventures as I come up with ways of making use of them. Standby, I already have another one in the works.
Boat/Sailor Terminology
Keel– Bottom center of the boat. Sailboats have a much deeper one.
V Berth– The compartment all the way forward or… the bow
Bow– The forward tip of the boat
Beam– Width of the boat at it's widest point near the center of the boat
Transom– The very aft/rear of the boat.
Deck– Top of the boat you can walk on.
Gunnel– Where the deck and hull are fastened together all the way around the perimeter of the boat
Hull– The outer area of the boat below the gunnel line
Cockpit– Where you be when ye be sailin' 'er matey.
Thank you to Survival Spot Readers Dan & Greta for submitting this post.
Disclaimer: This article is intended for entertainment and information only and not as guidelines for trying this yourself. If you wish for specific information or have any questions, please contact me via email.